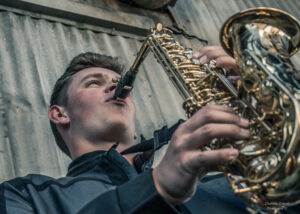 TIPS FOR A GREAT SHOOT
Bring your mom or a good friend. I'll put them to work. They can help with outfit changes, hair and retouching make-up. They might even end up in a picture with you! Check your fingernails, brush and floss your teeth. Drink plenty of water the day before, it does wonders for your skin.
OUTFITS
Solid,muted colors photograph best. Avoid busy patterns and logos. Bring colors that match your eyes. Layers work well for girls and guys alike. Fit is important, baggy or super tight clothes aren't flattering. Make sure your wardrobe is clean and ironed.
PROPS
Bring things that have meaning to you: sporting stuff, instruments, your dog, your car, your horse. Think about what really represents you. It can be anything like a Rubiks cube, your phone, ballet shoes, books, headphones, microphone, etc.
LOCATION
I have a variety of great locations, but think about what you envision for yourself. Do you like an urban setting or do you prefer a nature environment? Maybe you know a place where others won't have access to. Let's figure out the perfect setting for you in our online consultation.
GIRLS
HAIR AND MAKE-UP
Do your own hair and make-up if you are good at it, or have it done professionally. Use foundation to smooth out the skin and conceal any blemishes. Avoid shiny or glittery blushes and eyeshadows. Bring out your lashes with eyeliner and mascara. Fake lashes are great if they are applied right and don't irritate your eyes. Lips photograph well with lipgloss in brown or berry hues. A light application of hairspray is a good idea for an outdoor shoot.
OUTFITS
How do you see yourself? What is your style? Boho, sporty, dressy, dreamy, wacky? Bring several outfits on hangers to change into during your photo shoot. Bring your jean jacket, leather jacket, hats, sunglasses. Furry scarfs or hoodies are awesome! Make sure no bra straps are showing.
GUYS
Let me know if you would like to include your car, truck, or motorcycle in the shoot.
Remember to shave before the session unless you rock that three day beard look. Cover up blemishes. I recommend to use powder to avoid a shiny nose or forehead in the pictures. Your mom, sister, or girlfriend will have the right stuff.
I like to capture more than one look. We can go from the happy, friendly guy to a cool James Dean look. We can go from tuxedo to leather jacket. Bring shoes and socks that match the look you are going for.